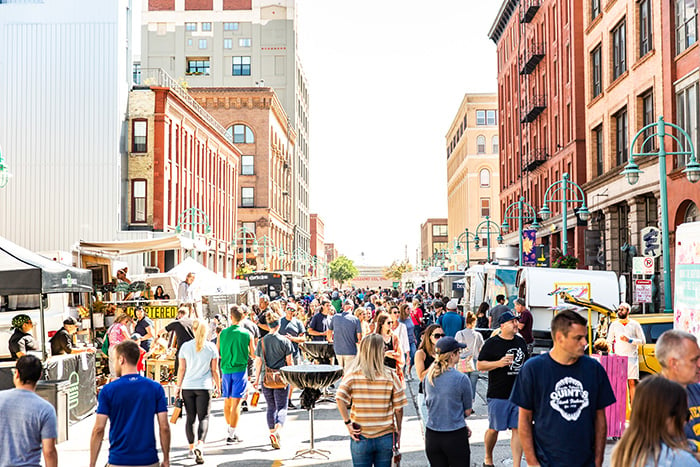 Are you looking to upgrade your K12 events beyond a Google Meet link to a more flexible and convenient option that increases participation, collaboration and efficiency? BoothCentral's virtual events are exactly what you've been looking for! Read our quick-start tips to help you build amazing virtual events from open houses to parent-teacher conferences, HR benefit workshops to career fairs!
1. Preview Vendors to Ensure Diversity
It is important that you have a diverse, balanced event. People attend to explore the variety, and with BoothCentral we make that process easier. Every vendor is required to submit an application that includes photos and details of their booth. This allows you to preview everything in one place, without having to collect and compile the applications. With a few clicks, you can jury your vendors and either approve, deny or waitlist their applications.
2. Managing Online Payments
BoothCentral also provides payment processing. No need to include links so your vendors have to bounce out to make a payment, it is all right here. Make it easy for them, but also easy for you! You can stop the payment hunt with our built-in automation and clearly see who has paid (and who hasn't). We give you the big picture you need with the details required to make this streamlined. A little extra bonus? You can even charge an application fee as part of the process.
3. Automatically Generate Reports!
We know about those reports you need for every event. So. Many. Reports! It can be time-consuming to compile all of your vendor information. Since we have all of that information on our platform, why not seamlessly populate the reports for you? With a couple of clicks, you will have the information you need, when you need it.
4. Embrace the 'WOW' Factor on a Budget
This platform sounds great, but you may be wondering about the price tag. We made a point to make this an affordable option by only charging $5 per charged registration. You can easily roll this over into the registration costs, meaning you can start using the platform today. Manage your event with no upfront costs… we think that's pretty affordable!
Continue to be that amazing event planner with a little assistance from us. Your vendors will be amazed by how easy it was to work with you, and you can enjoy new pockets of time in your planning schedule.
Looking to make event planning easier?
We've specifically designed our platform to help event organizers streamline the event planning process.
Are you looking to upgrade your K12 events beyond a Google Meet link to a more flexible and convenient option that increases...
Join the BoothCentral Community!