Virtual Promoters
Plan, Produce, and Relive Event Experiences!
Uniquely built for show and tell & pitch and sell events!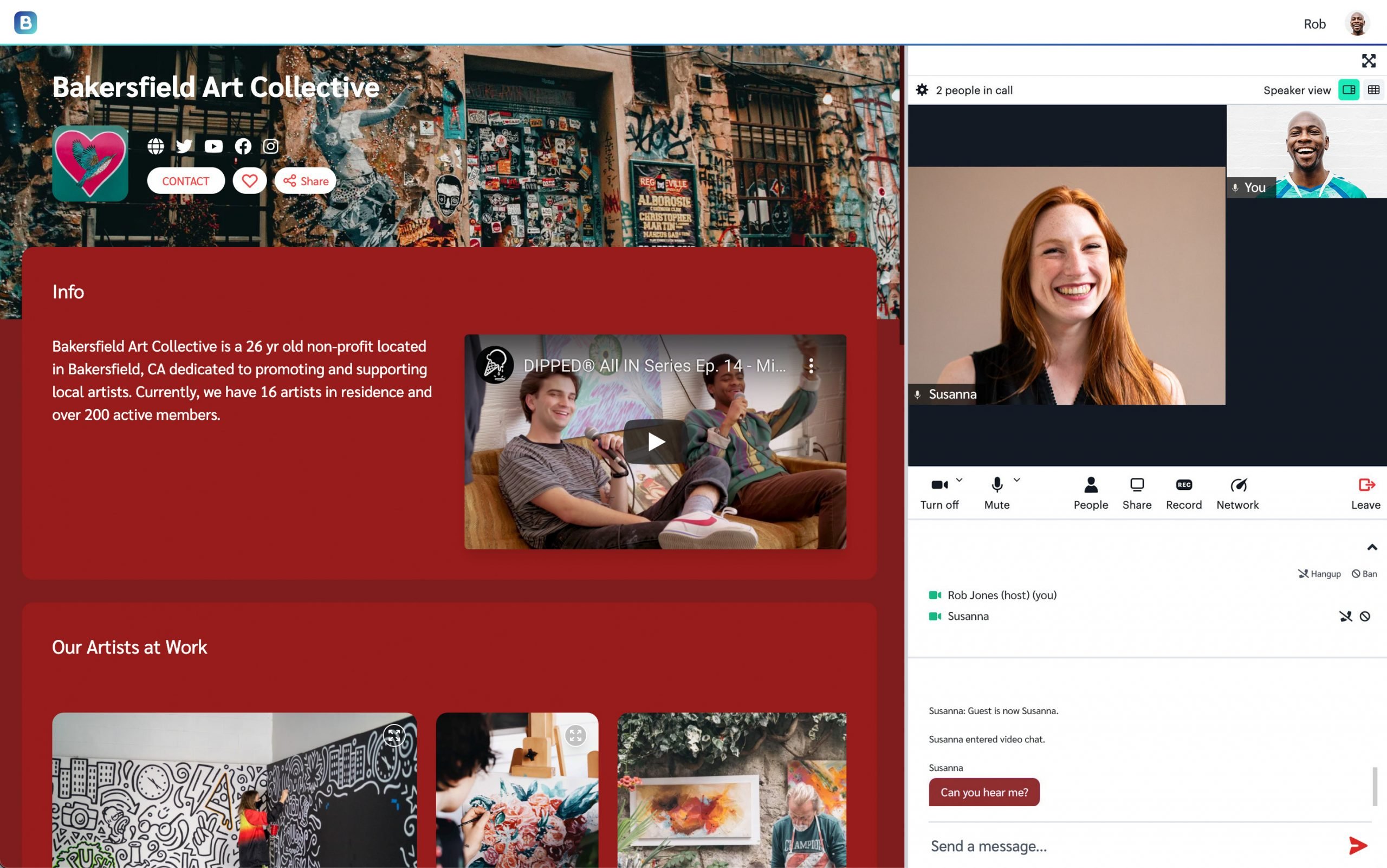 Introducing Boothy – a virtual event platform unlike any other. 
Are you looking for a virtual event platform to host your next webinar, training classes, or to connect your sellers and buyers? Boothy is specifically designed to set up and host these events with minimal efforts, maximize your vendors' engagements and presence during the live event, and to continue to engage your audience even after the event is over.
Built on the Idea of a Brandable, Customizable and Reusable Booth
Our main difference is booths are our foundation. Anyone can easily create a virtual booth complete with branding, marketing assets, presentation materials, and even products. This maximizes your virtual first impression where your customer is immediately exposed to your brand the moment they enter your booth. 
Assembling a virtual event is simply adding these booths, whether they are created by you or your vendors. Like booths in the real world, they can be reused in multiple events and even participate in them simultaneously.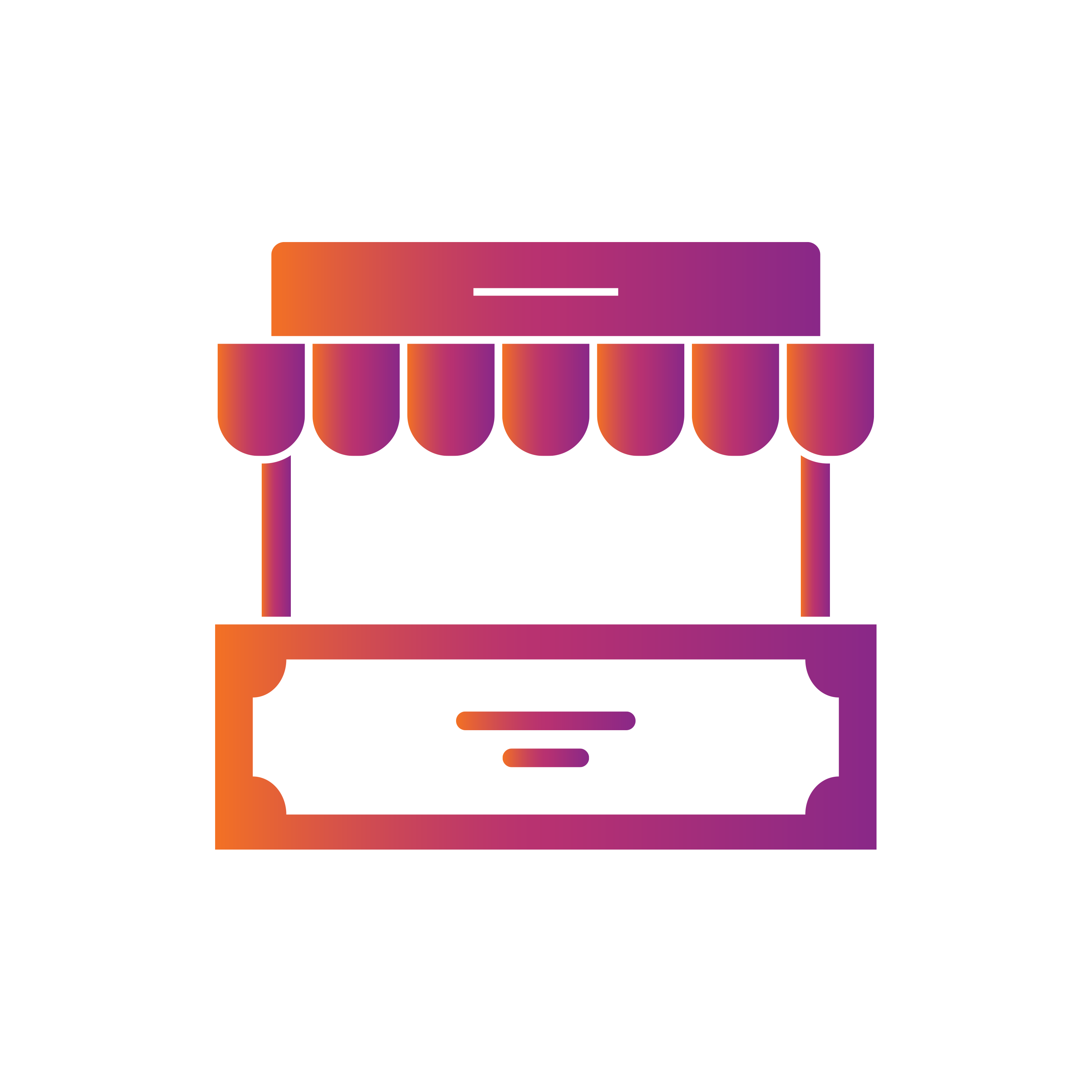 Seamlessly Work with Eventbrite, Shopify and Other Online Services
Are you already using Eventbrite to sell tickets or handle registrations, Shopify to sell your products, or Mailchimp to handle your mailing list? Boothy seamlessly integrates and works with these and many other online services you come to rely on. Our goal is to save you time and streamline your virtual event workflows, not to add extra work and steps to running your events. 
Continue to Engage Your Audience or Customers (Even After the Event is Over)
Our booths are by design reusable. After the event is over, attendees can revisit at any time using the same link. For e-commerce events, visitors can continue to engage with vendors afterwards. For webinars and other show and tell events, you can easily add the recorded session into your booth. Registrants that missed the event can use the same link to watch the recording. There is no need to create a separate page on your website or use another online service, saving you time and money while maximizing your attendees experience.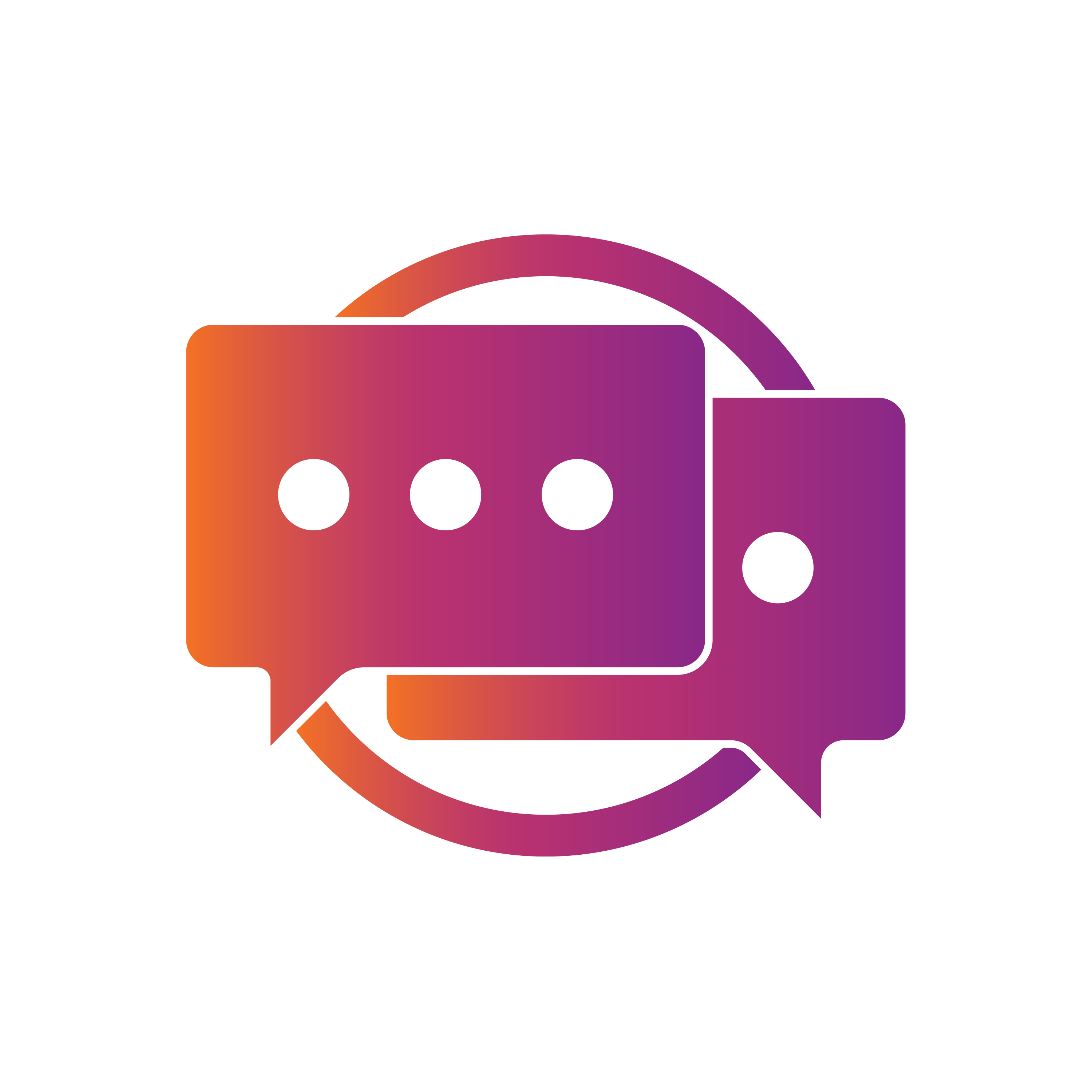 The Most Cost-Effective Solution
Like our in-person event management, we strive to keep pricing fair and simple. Live virtual events start at only $495 for up to 10 booths. If you plan to run multiple events, reach out to us for an annual quote. If you are a marketplace, association or non-profits with members, let's talk. We can incorporate Boothy as an added benefit to your members.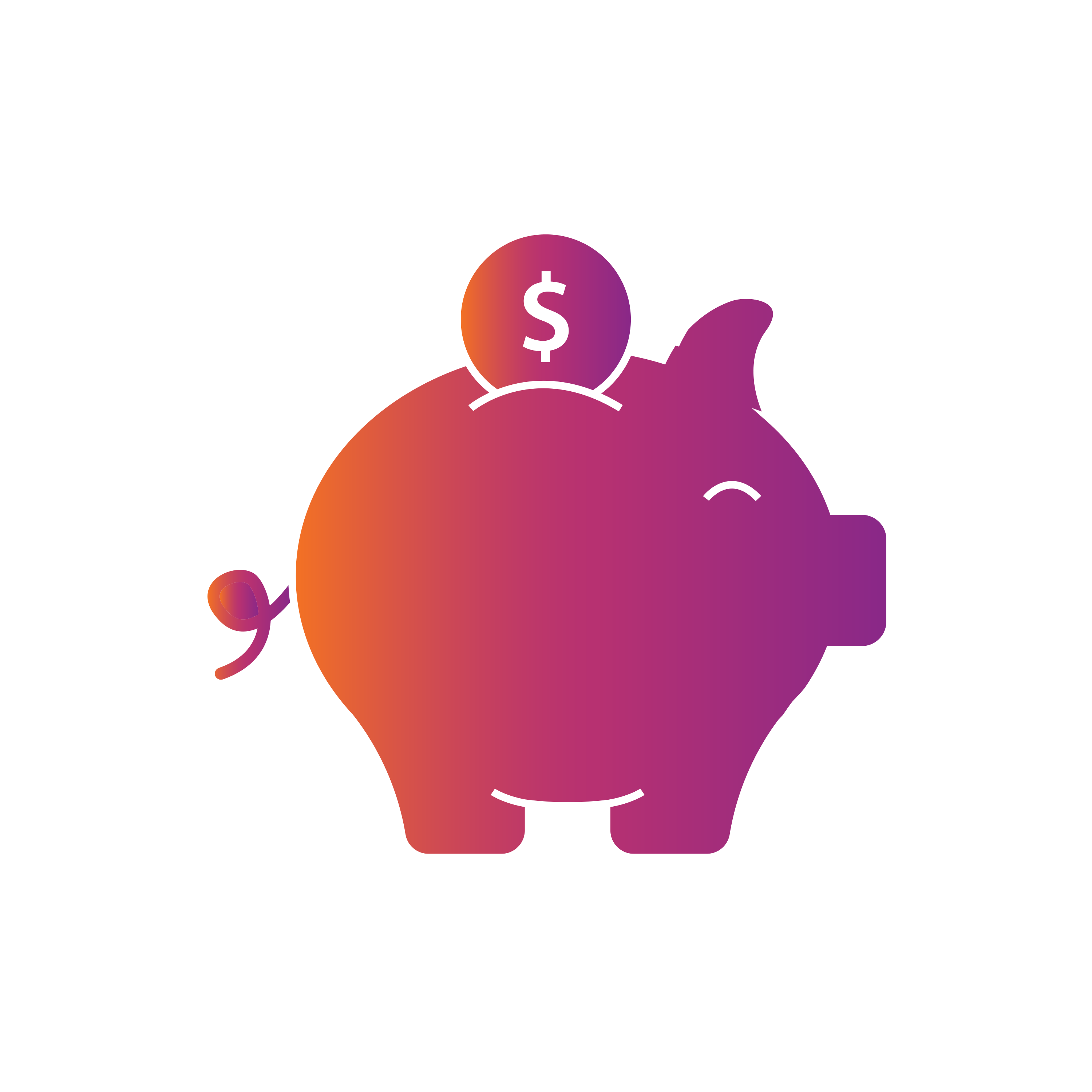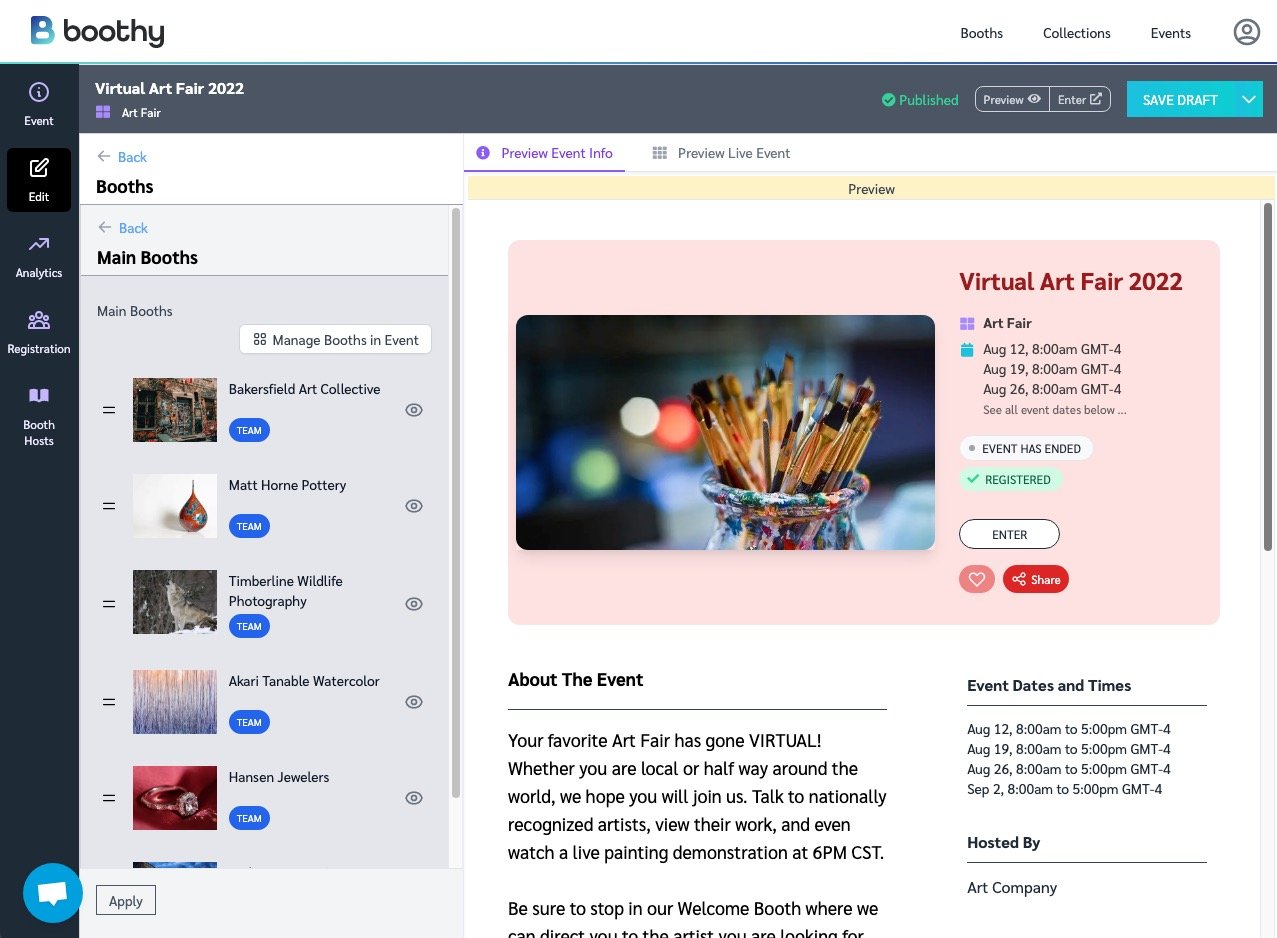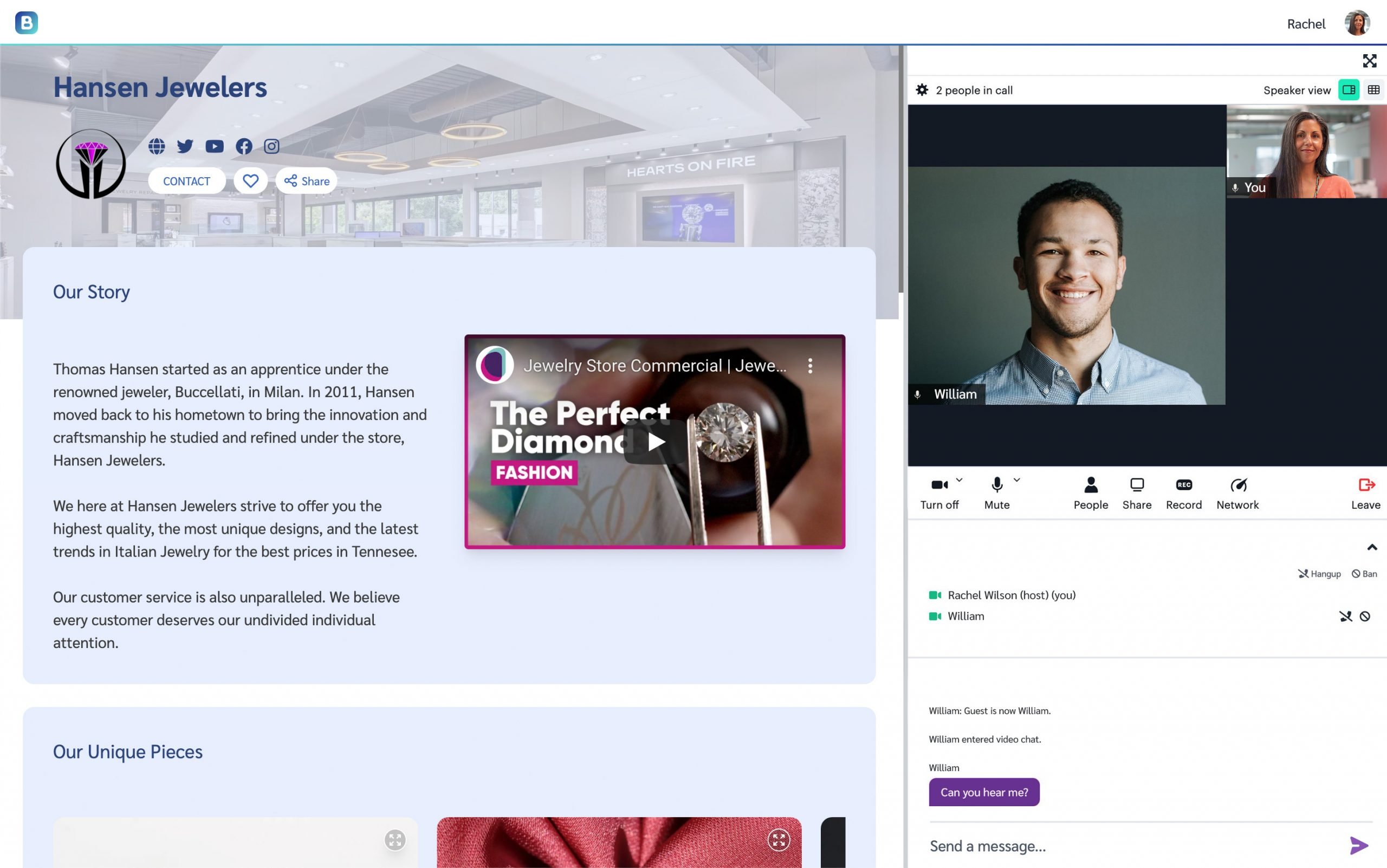 Spend 30 minutes with us to learn why Boothy is a superior solution for your virtual event.
We are passionate about making your life easier so you can spend more time doing the things you love. 
Don't take our word for it.
Here's what our customers say!
"Hosting an event on the new Boothy platform elevated our webinar from a plain & simple Zoom environment to a polished, interactive experience for our speakers & attendees.  Using the booths as breakout rooms allowed us the unique opportunity to allow attendees to go into any 'room' at any time, wandering as they wish… rather than getting corralled around by automated technology.  The ability to easily add visuals, links and resources to each booth made the breakouts so much richer and more dynamic than a simple video chat.  When the event concluded, we linked the video recording to the 'event stage', and the static content continues to play for anyone who joins after-the-fact!  Boothy's intuitive, brandable interface lends itself to so many different event types & courses… we're excited to see how we can use it next!"
Liz King
Colson Center, Colorado Springs, CO
"They did an amazing job for our very first virtual event! Two standouts: (a) Having immediate one-click-away tech support for our attendees and exhibitors during the live event put them at ease (we got lots of rave reviews about this feature!) and (b) Our exhibitors loved the ability to video chat with booth attendees – that's a feature that competing shows in the travel industry don't offer, and our suppliers who paid to attend our event thought that added tremendous value for them. Behind the scenes, the system is very easy to use in setting up an event. And, again, the customer support for event organizers was VERY responsive – when I had questions, I could log into our account during business hours, click a chat box to type the questions, and I'd get immediate answers (within a minute or so literally). We're definitely using them for all of our future virtual events! "
John Hawks
Destination Wedding & Honeymoon Specialist Association
"My first experience with theml was fantastic! I was looking for an economical, virtual platform to host our Virtual Vendor Show and they exceeded my expectations. The technical support, videos, and pre-written marketing guidance was extremely helpful during the event creation and at launch. The event was interactive and also provided our attendees with the ability to text the vendors if they preferred not to video chat. I look forward to future events with them and highly recommend the platform if you want to take your event to the next level!"
Rose Rossana
West Virginia PTA